Crete is simply the perfect place for holidays!
Crete is the largest island in Greece and the fifth largest one in the Mediterranean Sea. Here, you can admire the remnants of brilliant civilizations, explore sandy beaches, impressive mountainscapes, steep gorges and become part of the island's rich gastronomic culture. Crete is, after all, a small universe teeming with beauties and treasures that you will probably need a lifetime to uncover!
Chania
The region of Chania (Haniá), on the western side of the island, is dominated by the impressive White Mountains (in Greek: Lefká Óri) and its famous National Park, which occupy the largest part of the region. The Prefecture of Chania provides tourist services and activities of all kinds, satisfying all the choices. The city of Chania maintains unaltered all of its characteristics, from the time of the Venetian Rule up until today.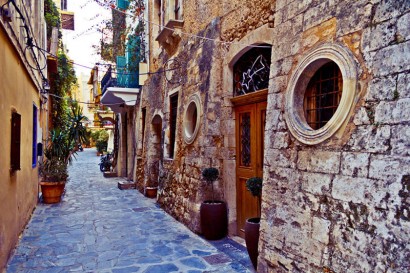 Wandering around the Old Town's maze-like alleys with the beautiful Venetian mansions, the fountains and the elaborate churches will help you discover well-preserved historical monuments. Get familiar with the city of Chania by wandering around in its streets, visiting its museums and admiring the different architectural styles presenting the historical route of the city.
Chania is a paradise for food and wine lovers. Here you can taste the famous Cretan cuisine with a glass of excellent Cretan wine. Don't miss the opportunity to visit many wineries, where you will get to know the varieties of the Cretan terrain, the special local gastronomy and famous cretan recipes and let's not forget the outstanding Cretan hospitality!
Explore the Island with this video!!